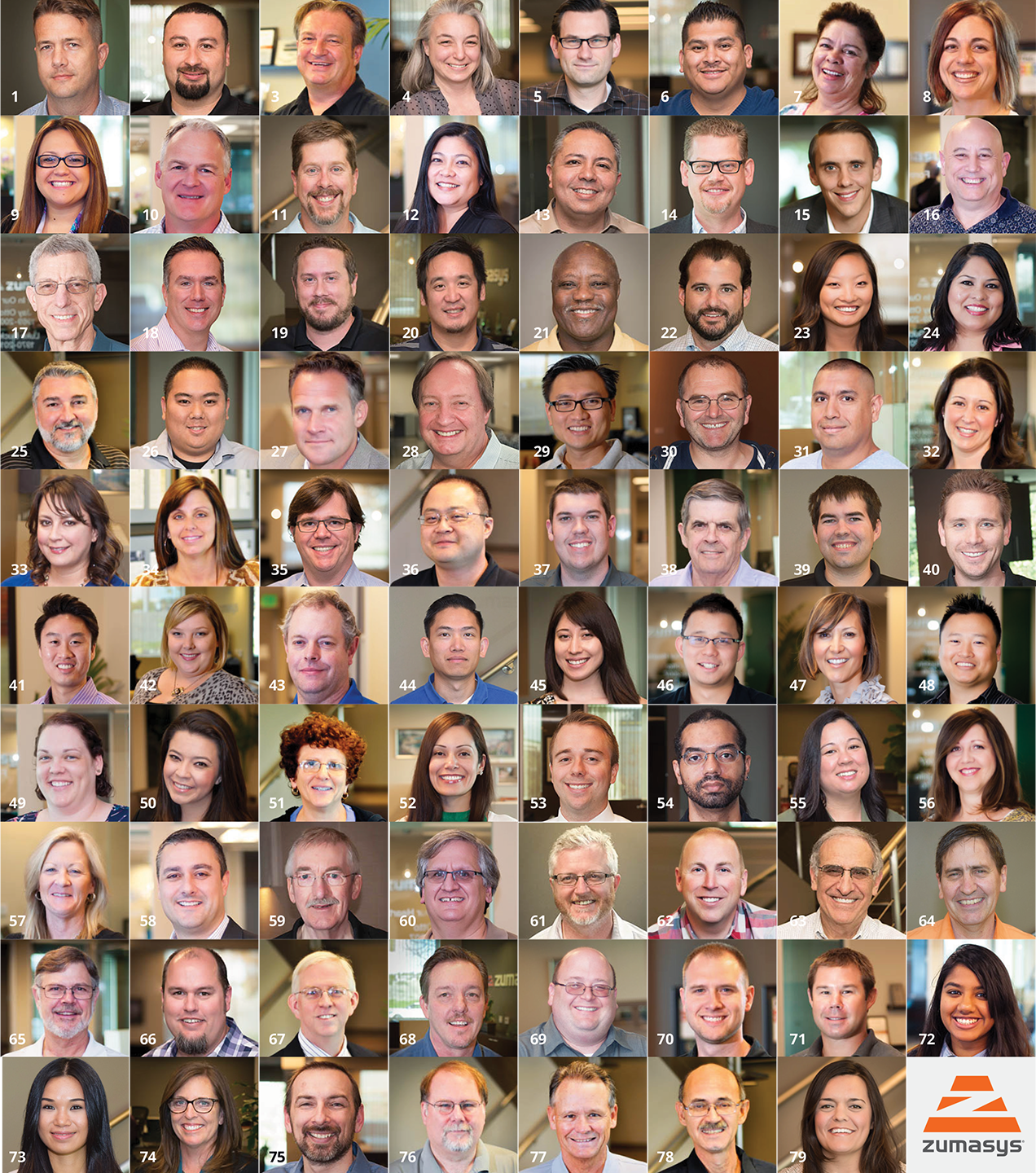 Zumasys is a technology company that puts people first. Our mission is to provide the finest customer experience in the IT industry, with personalized support and service from passionate employees who are working for more than the bottom line.
You can read more about each of our team members on the Our People page of our website. To get you started, here are some fun facts about each of our employees:
1 Aaron Hunt I make a fantastic martini! 2 Alex Muniz I can rap freestyle lyrics 3 Allen Ratcliffe Ask me about my Harley Davidson 4 Ananya Ridenour I just finished my first novel 5 Andy Takacs In my free time I enjoy wrenching on cars 6 Bert Reyes You can find me at the DJ booth spinning some beats 7 Betty Martin I love photography and traveling to beautiful places 8 Brianna Salley My favorite moments are spent with my family over a home-cooked meal and a great glass of wine 9 Brittany Cruz Quote to live by: "Don't count the days, make the days count." 10 Bruce Decker Favorite movie quote: "Write it again, half as long." – A River Runs Through It 11 Bryan Bowers I'm full-blown obsessed with Star Wars and Lord of the Rings 12 Cairene Medina Recently traveled to Thailand as part of the Zumasys Travel Incentive Program 13 Carlos Sanchez Favorite movie quote: "Why, oh why didn't I take the BLUE pill?" – The Matrix 14 Chad Tvedt Favorite movie quote: "Surely you can't be serious?" "I am serious, and don't call me Shirley." 15 Corey Luckow My passion is surfing the waves at Trestles on a beautiful day 16 Dan Ell A BASIC game program I wrote in 1979 called "Digital Baseball" was the foundation of a BASIC course taught at Vanderbilt University 17 Daniel Klein My favorite book is Zen and the Art of Motorcycle Maintenance by Robert M. Pirsig 18 Dario Ferreira Quote to live by: "The brick walls are not there to keep us out. The brick walls are there to give us a chance to show how badly we want something." – Randy Pausch 19 Dave McCary My favorite song is Jack Straw by Grateful Dead 20 Dave Kam On my tombstone: "Died while fighting off ninjas on a sinking battleship." 21 Dobie Yates Quote to live by: "'Whoever wants to be my disciple must deny themselves and take up their cross daily and follow me.'" – Luke 9:23 22 Dustin Smith My dream is to sail around the world 23 Elle Gargano Find me next to the cheese platter 24 Esmeralda Valenzuela I love jamming out to The Gap Band 25 Frank Petillo Things I can't live without: Computers, Gadgets, Sailing, Golfing, Soccer & COD 26 Garrett Ono Go Ducks! 27 George Dudenhefer You can find me playing golf and drinking red wine 28 Greg Cooper I very much enjoy watching movies, especially those featuring Austin Powers' calorie-challenged arch nemesis 29 Hieu Phan I recently ate my way through Japan 30 Ian Meers Quote to live by: "I fear the day that technology will surpass our human interaction. The world will have a generation of idiots." – Albert Einstein 31 Jacob Vargas Favorite line from a movie: "I'm your Huckleberry." – Doc Holliday 32 Jennifer McGraw I'm passionate about promoting food allergy and anaphylaxis awareness 33 Jessica Johnson I love spending time with family and friends, sharing good food and good drinks! 34 Jill Orsini I love spending time with my family attending my kids' volleyball and lacrosse games 35 Jim Holloway While living in Japan, I perfected the art of making natto (fermented soybeans) 36 Jin Kim My fun fact is I don't have a fun fact 37 Joe Dunkle I can make a mean grilled cheese! 38 John Riley I love taking piano lessons and working in the garden 39 Jonathon Mittelsteadt I enjoy playing video games with friends, hosting BBQ's and playing poker 40 Joseph Kasal On my tombstone: … That Bus 41 Justin Kunisaki In my free time I enjoy playing video games with my friends and playing with my German Shepherd 42 Kate Goetting Favorite lyric: "All is full of love" – Bjork 43 Kevin Jones Quote to live by: "Since we came together so miraculously, let us not lead a trivial life; let us together become active in a noble manner" – Goethe 44 Kung Chhan If I could go to one concert for the rest of my life it would be Dave Matthews Band 45 Laura Guziel My prized possession is my Kindle and my classic red KitchenAid 46 Leon Ngo I enjoy PC Gaming, watching movies and hanging out with family and friends 47 Lisa Padilla Heart-thumping spin classes at the crack of dawn fuel my inspirations of the day! 48 Long Bui Favorite Band: The Red Hot Chili Peppers, The Killers, The Beatles and seemingly any band that has "The" in front of it 49 Lori Ridgeway On my bucket list: Mardi Gras in New Orleans, jumping off of the Sky Tower in New Zealand and zip-lining in Costa Rica 50 Lourdes Ramirez Passions: Family, Friends, Futbol, Music 51 Maria Gasser I make beautiful origami boxes and quilts 52 Marissa Loffler Quote to live by: "When things are falling apart, they are actually falling into place!" 53 Maxx Blason I want to dedicate a couple of years to volunteer in an underprivileged part of the world 54 Michael Tighe Obsessed with Japanese rhythm games 55 Michelle Brown I can wiggle my ears 56 Michelle Moreno My most prized possession is my "Arrow of Time" painting by Vladimir Kush 57 Michille Watson I want to visit all 50 states 58 Mike Coelho Quote to live by: "You miss 100% of the shots you don't take." – Wayne Gretzky 59 Mike Street On my iPod: The Beatles, Queen, The Rolling Stones, Eric Clapton 60 Mitch Buckland I became a black belt in karate after five years of training 61 Patrick Payne I am most at home in my RV 62 Paul Giobbi My Personal Philosophy: "Always have something to look forward to." 63 Paul Radovsky My hobby is creating music with my drum 64 Peter Falson I play the keyboard in two different bands 65 Peter Schellenbach Music of choice: The Beatles 66 Randy Joyce Favorite Quote: "She may not look like much, but she's got it where it counts, kid. I've made a lot of special modifications myself." – Han Solo 67 Ray Gasser Full-Blown Obsession: Crosswords and other puzzles 68 Rich Brim On my tombstone: Wait, I'm not done yet! 69 Robert Trask Favorite Motto: Life is what you make of it, you can enjoy it from the sidelines or take a risk and play on the field. If you are defined by the past and the present is here and the future is there which one are you living for? 70 Ryan Beaty I practice Kung Fu 71 Sam Wozniak Favorite Saying: "How you think is everything. Always be positive. Think success, not failure. Beware of a negative environment." – IBD 72 Saranya Villavankothai My dream is to travel to Thailand and Bali 73 Stella Tan Quote to live by: "Human beings are works in progress that mistakenly think they're finished. The person you are right now is as transient, as fleeting and as temporary as all the people you've ever been." 74 Tiffaney Giobbi Can always be found dancing to some country music 75 Toby Bierly Quote to live by: "Anyone can give up; it is the easiest thing in the world to do. But to hold it together when everyone would expect you to fall apart, now that is true strength." 76 Tom McTeer I'm obsessed with lighting animation 77 Tom Parker I once traveled around Indianapolis Motor Speedway in an open wheel car at 190 MPH 78 Wouter Schuchner You can find me outdoors! Dirt bike riding, motocross racing and hiking 79 Yvette Castro Adore my 4 daughters, the beach, Radiohead, and The Los Angeles Dodgers.
Think you're ready to join the Zumasys squad? Your name could be next! Visit our Careers page to learn more about opportunities at Zumasys.
And don't forget to connect with us on social media to stay up-to-date.