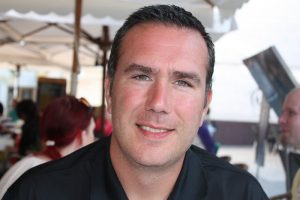 Ever wonder what it would be like to be the fearless leader of the Zumasys sales team?
Just ask Dario Ferreira, VP of Innovation at Zumasys. Although not totally new to the Zumasys team, we thought he deserved a proper introduction. In this Q&A, Dario tells all about his experience working at Zumasys and his vision for the future.
What inspired you to join Zumasys? What is your background?
I started in this industry at an early age. I was in my teens when I first started working at Lechters Housewares company. Throughout my career, I've been focused on infrastructure and delivering solutions that help customers solve important challenges. When I first sat down with Zumasys, I instantly felt a connection. The culture is very inspiring, but I was also really intrigued by Zumasys' IP—particularly around jBASE. The acquisition of jBASE got me excited because it was so bold and forward-thinking. It's a niche. It's unique. I thought: I want to be working with people who have such a strong vision for where they want to lead an industry. So it's the perfect storm: you've got incredible people and a strong technology vision. When they come together, we can do amazing things for our customers. That was intriguing to me.
What were your first six months at Zumasys like?
I would describe it as your standard "drinking from a fire hose" experience, but it's been a lot of fun. I've spent a lot of my time getting to know our team and our customers and learning how Zumasys does business. I am really excited about what Zumasys is doing in the software space. We have our own, unique product. We're not only responsible for selling it to customers, but also for developing it and enhancing it to fit their needs. One of the highlights has been participating at Zumasys' Hosted User Group event. I'm based in Atlanta, so it was great to spend more time with the Zumasys team and some of our customers in person. After Paul's keynote on Happyness is a Choice and our work with Firm Foundations Romania, I stood outside and was blown away by just how excited and inspired everyone was coming out of the event. I've never had that experience before with any other company. I could tell that the customers came away with a real sense of connection to Zumasys and what we stand for. I did too.
Where do you see the market going for Zumasys and its customers?
The technology industry is very competitive because it changes so rapidly. By the time you think you understand any one technology, the industry has moved on to something else. It's like buying a TV—by the time you walk out the door with one, there's already something bigger and better on the market. So the question is, what is the next evolution? I think we're seeing a major influence from personal, consumer products like smart phones and tablets. People are now able to work from anywhere, at any time. Zumasys is already enabling this level of connectivity with some of the strategic acquisitions we've made in the software space. We're working very hard to ensure that we're aligning ourselves to what the future holds and what the next generation of consumers are going to want to buy.
What are the biggest challenges facing your customers?
Organizations today are looking for technology partners that they can trust to stay focused on the best interests of their business. They need someone who will listen to them and understand not just their current problems, but where they want to be in two years, five years, or even ten years from now. Establishing that relationship is critical. Organizations want to partner with people who are just as concerned about their success as they are. That's where Zumasys stands out from others in our space. Of course, the value of our technology and the quality of our support are important, but we are really about responding to real-time challenges and helping customers develop strategies for the future.
What do you like most about your job?
I'm a big fan of innovation. Our customers are always looking for ways to merge business with IT. The only way to achieve this convergence is with innovation. Each customer has unique needs, business requirements, and success goals. Innovation is about challenging ourselves to improve. At Zumasys, we must always be ready to bring innovation to our clients. I love that Zumasys lets me be idealistic and creative. I'm free to be innovative with our customers. This flexibility allows me to think outside the box and develop solutions for their businesses leveraging our technology. I get a lot out of sitting with our customers, listening to their challenges and goals, and proposing ideas that can directly improve the overall state of their organization. This freedom of creativity is what makes my job exciting. Getting in front of customers and providing solutions is a true passion for me. I love helping them bridge the gap between business and IT. I think it is a major success when we can improve the perception of IT at an organization.
What do you do when you're not at work?
When I'm not at work, the first thing I want to do is spend time with my family. I love being involved with my kids and all their different activities. I also enjoy hiking. The peace and tranquility you get when you're out in nature is really important to me, particularly in this crazy world we live in. My current passion is reading biographies and understanding how people overcome personal challenges. I believe we should all be constantly challenging ourselves. If you want to succeed, you should surround yourself with people who challenge you to improve. Never take the easy road.