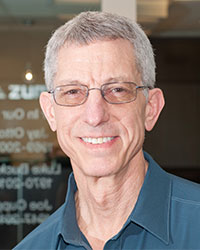 Daniel Klein
SENIOR QUALITY CONTROL DEVELOPER
A veteran of the tech industry, Daniel Klein has been working in programming and software engineering since 1978. Some of his earliest projects include a parameter driven data entry system, postal sorting software, and a B-tree indexing software system which he presented at the 1992 Spectrum International convention in Irvine, California, hosted by none other than Paul Giobbi's father, Gus Giobbi. 
Before coming to Zumasys in 2015, Daniel also worked in the healthcare industry, at a multi-level marketing company, and at jBASE Software in Portland, Oregon. A hardcore "gym rat" at heart and an avid high-mountain hiker, Daniel also enjoys spending time at home with his wife and his three parrots.
How does what you do benefit customers? I take a personal interest in helping our customers solve their toughest IT problems, no matter how complex.
Joined: 2015

Favorite book: Zen and the Art of Motorcycle Maintenance by Robert M. Pirsig

Favorite music: Porcupine Tree, Camel, Asia, Tangerine Dream, and just about anything Classical

Quote to live by: "Be not afraid of growing slowly, be afraid only of standing still."