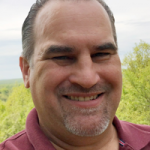 John Hill
Senior Software Developer
Meet John Hill, our seasoned Senior Developer with an impressive 25 years of experience in the field. At Zumasys, John plays a vital role in contributing to various projects and products, including Rover Upgrades, IMACS customer support, homegrown pick application support, and backend assistance for technologies like M3 Services. He's an integral part of our dynamic and innovative team, always bringing fresh ideas to the table.
Beyond the world of coding, John leads a fulfilling life outside of work. He cherishes his 32-year-long marriage to his wonderful wife, Laura, and together they enjoy activities like dancing and traveling. As a proud father of two accomplished adult sons, John shares many interests with them, such as golfing and boxing training. In his spare time, he dives into exploring new technologies like AI and is currently working on developing a robot tractor for various tasks.
John's passion for mentoring newcomers in the IT field shines through his active involvement in guiding and supporting aspiring professionals. He also participates in men's groups at his church, fostering a sense of community and growth.
Did you know that John has an intriguing past? Before immersing himself in software development, he made waves as a professional high diver and stuntman. His daring acts took him across the country, and he even earned a medal in the Junior Olympics in Gymnastics.