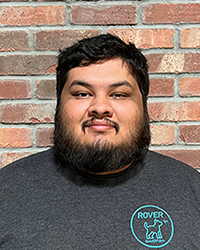 Richard Martinez
Application Support Technician
Richard Martinez is an Application Support Technician at Zumasys. In his current role he services clients by triaging and managing customer-created tickets, providing effective solutions, and conducting quality assurance testing on new customer systems. Richard works with support on all supported applications at Zumasys. Additionally, he collaborates with the Application Development team primarily focusing on testing activities.
Prior to joining Zumasys, as an IT Analyst at Taco Bell, he supported over 8,000 stores, providing assistance with various point-of-sale and operational issues. Additionally, Richard previously worked with Leggett and Platt to implement an in-house-built ERP system and provide technical and operational support to the warehouse floor.
In his spare time, Richard enjoys traveling, exploring different places within the United States. He has a passion for trying new foods and relishes the opportunity to meet new people along the way.  A fun fact about Richard is his involvement in the world of fighting games. He travels across the country to participate in large tournaments and exhibitions, immersing himself in this passion. This unique hobby not only allows him to compete but also enables him to explore different locations and forge connections with fellow enthusiasts.