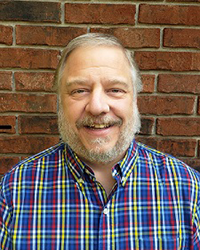 Robert Cormier
Senior Systems Developer
Robert Cormier is a Senior Systems Developer at Zumasys, where he performs software and systems development for Zumasys products. He also provides third-level support for Zumasys customers. Before joining Zumasys in 2019, Robert managed systems development at Total Computing Solutions (TCS), a Utah-based provider of MultiValue database solutions for higher education retail customers.
Based in Fayetteville, AR, Robert joined the Zumasys team in 2019 when TCS was acquired by Zumasys. Robert worked in development at BudgeText, a textbook wholesaler and software developer, before the store systems division was acquired by TCS in 2012.
As part of the Zumasys team, Robert is helping to onboard new programmers and developers to get them familiarized with the TCS product portfolio. He is also working with TCS customers to get them migrated to the QM MultiValue database language and toolset, which will enable them to further modernize their applications and provide competitive features that they would not have been able to deploy on their existing MultiValue infrastructure. He's excited to leverage the depth and breadth of the Zumasys bench to get customers the development and customization they need faster while expanding the TCS product offering for new and existing customers.
With over 30 years of experience in MultiValue development and software engineering, Robert understands the unique needs of MultiValue customers. He has the time-tested expertise to deliver quality products that exceed expectations for a variety of applications including retail and point of sale.
When not at work, Robert loves spending time with friends and family in the great outdoors. His family owns a property out in the country where they enjoy kayaking down a nearby river. Robert also likes to get out and ride his motorcycle, a Vulcan 1500 Classic.