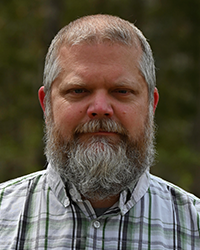 Greg Bonebrake
Senior Software Developer
Greg Bonebrake, a Senior Software Developer at Zumasys' Application Development Division, drives innovation and delivers exceptional solutions across diverse technical landscapes. His expertise in MultiValue databases, C#, Vue.js, and TypeScript enables him to build modern web applications that cater to evolving customer needs. Greg embraces daily challenges, continuously learning and adapting to contribute to project success.
With his extensive experience in system and application support, he provides innovative solutions tailored to their businesses. His focus includes seamless integration of legacy MultiValue applications with modern web-based services, enhancing efficiency while preserving existing systems. Greg also contributes to enhancing DevOps processes, leading to improved service delivery for customers.
Greg began his IT career in 1999 at Pick Professionals, Inc (PPI), gaining invaluable MultiValue systems experience. As a freelance software developer, he collaborated with Zumasys after their acquisition of PPI Information Systems, eventually joining the company full-time in 2023. Greg initially worked in the software services division before transitioning to application development.
Greg started as an HVAC technician in his father's company at a young age, Greg's hands-on work fueled his enthusiasm. Outside of work, Greg enjoys being in nature through taking hikes and road trips. His passion for fixing and building things provides him with a satisfying outlet as well as contributing to his role at Zumasys.