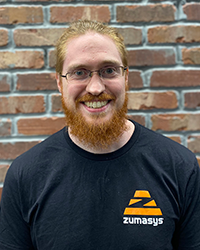 Alexander Kozak
Software Developer
Alexander Kozak is a Software Developer in the Application Development Division. His experience in MultiValue Databases, C#, and automated testing allows him to bring a quality focused approach to solving problems.
Prior to joining Zumasys, Alex spent 5 years working on another MultiValue based ERP system with a focus on finding and developing processes and methodologies to reduce bugs and catch them earlier, with the intention of reducing customer impact and rework. From there he moved on to an Automated Testing role with TrainerRoad, putting many of these ideas to practice in mobile, desktop, and web environments to perform high-value automated testing allowing for frequent and rapid product releases with a high quality standard.
In his free time, Alex enjoys studying the science of training and nutrition for sports and occasionally racing bikes with the hope of one day being a certified coach to help others reach their goals. When he's not training or studying, he enjoys cooking and watching cult-classic movies with friends.