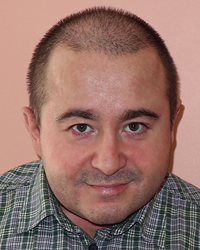 Can Olum
Web Developer
Can Olum is a Web Developer at Zumasys, where he manages the implementation, installation, and deployment for customers' web sites and front ends. Before joining Zumasys in 2019, Can was a member of the web development team at Total Computing Solutions (TCS), a Utah-based provider of MultiValue database solutions for higher education retail customers. Prior to joining TCS in 2014, Can worked as a web developer at Premiere Systems Support, a consulting and tech services provider, for 6 years.
Can manages web development for TCS' higher education webstore pages. He's responsible for both the backend coding and development as well as customizing the front end to meet customer's specific needs. Can works with the TCS product development team to make sure each webstore is tightly integrated with the POSConnect software, giving customers a direct link between their POS systems and inventory and product availability on their web page.
Each of TCS' customers has their own expectations for how their webstores should work, and Can and his team makes sure that the web sites are modified and updated to provide the features and capabilities their clients require. Can also ensures that data from customers' MultiValue databases is seamlessly integrated with the webstore so that their customers are seeing up-to-date information on inventory and order history.
Can is excited to continue growing his knowledge of web programming languages using Zumasys' deep bench of web development expertise and tools. He's looking forward to leveraging Zumasys' skillset to improve the web experience for his customers while maintaining the customization and rich feature sets they've built up over the years. He is confident that with TCS becoming part of the Zumasys team, customers will benefit from having a broader selection of products and services to meet their complex business needs, with the support and development firepower that can provide the features they need to stay competitive and get new business.
Can loves music—to him, it's not a hobby, it's a way of life. He is an especially big fan of heavy metal, and can still remember buying his first record: Iron Maiden's Seventh Son of a Seventh Son. He's also a fanatical vinyl collector. He's got over 2,500 vinyl records, and he says his collection is growing daily!