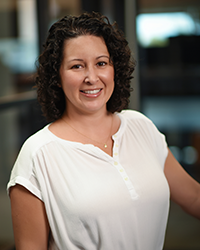 Jennifer McGraw
Chief Operating Officer
As Zumasys' Chief Operating Officer (COO), Jennifer plays a key role in the success and daily operations of the company. Working closely with Zumasys President Corey Luckow, Jennifer is responsible for executing the organization's strategic plan and aligning personnel with the company's goals through coaching and recognition programs. In addition to being a member of Zumasys' executive team, Jennifer has been a member of Zumasys' board of directors since 2011.
Among her many responsibilities at Zumasys, Jennifer oversees the day-to-day activities of several departments, including Finance, Accounting, and Billing; Human Resources; and Procurement. She leads talent acquisition and management for the company and guides compensation, benefits, organizational development, and employee relations. Jennifer's focus on recruiting the best technical talent in the industry is a personal passion and a key ingredient of Zumasys' culture.
Jennifer's love for business developed at a young age, and throughout her life she has been drawn to helping businesses grow. Prior to joining Zumasys in 2005, Jennifer was Human Resources Manager for Quality Imaging Products (QIP), a 150-employee manufacturer of toner and inkjet cartridges. At QIP, Jennifer was responsible for developing the company's growth-focused recruitment strategy. While Jennifer was at QIP, the company was included on the Inc. 500 list of America's Fastest Growing Private Companies for four consecutive years, having grown 800 percent during that time. It was also named one of the Best Companies to Work for in Orange County by OC METRO Magazine.
Jennifer has applied the same level of energy and dedication in her role at Zumasys. During her tenure at Zumasys, the company has been included on the Inc. 5000 list of America's Fastest Growing Private Companies and the Orange County Business Journal's list of the Best Companies to Work for in Orange County.
Joined: 2005

My Passion: My three wonderful children and promoting food allergy and anaphylaxis awareness.

Favorite Band: Def Leppard

Employee of the Year: 2006