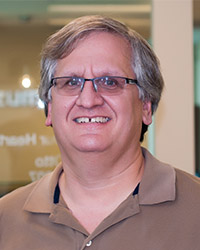 Mitch Buckland
Senior Developer / Business Analyst
Technology is more than just an interest for Mitch Buckland, it's a way of life. Growing up in Rochester, Minnesota, Mitch developed a keen excitement for computers from an early age, starting out on a TRS-80 machine from the early 80's. After taking a programming class in high school, he was hooked on technology.
After High School, Mitch went on to complete a 12-month certificate program at Northern Tech School of Business, where he honed his programming skills and deepened his love for computers and technology. Straight out of school, Mitch worked began working at Professional Processing, Inc., which afforded him many opportunities to expand his knowledge and experience. For the better part of two decades, Mitch worked at a variety of tech companies before he ended up at The Nerdery, working with Pick systems.
Since April of 2013, Mitch has been working as Senior Developer/Business Analyst for Zumasys, where he combines his love of technology with his passion for helping improve customers' business operations. Throughout his career, Mitch has enjoyed helping clients become better companies and making their work easier through technological innovation.
At home, Mitch loves spending time with his wife of 30 years, Sue, his son, Alex, and his border collie/lab, Embry.
How does what you do benefit customers? I help customers improve their Pick applications to keep up with changing business needs. I also consult with clients to help them make decisions on how to fix their various pain points.
Joined: 2013

Credits: Certificate in Programming from Northern Tech School of Business

In my spare time: Since the 80's, I have enjoyed getting together with my friends and playing Dungeons and Dragons. Keeping it old school!

Hidden talents: I recently became a black belt in karate after five years of training.