IRVINE, CALIFORNIA—July 13, 2015 – Zumasys, a leading provider of cloud computing solutions for business-critical software applications and ERP systems, announced today that it has partnered with Tincat Group, a software architecture and management consulting company, to update the The MultiValue Family Tree.
The MultiValue Family Tree poster was originally released in 2002 by Dawn Wolthuis, President of Tincat Group. Zumasys and Tincat spent several months using their contacts in the industry to research and update the document in response to the recent market consolidation and in honor of the 50th anniversary of the Pick database which was originally authored by Richard (Dick) Pick.
"It was great to have a partner for this edition of the poster. Zumasys has been a joy to work with," said Dawn Wolthuis. "Thanks to each of the vendors and individuals who contributed their knowledge to help with the accuracy of this poster. Happy 50th Anniversary MultiValue!"
"This is an exciting time of change in the MultiValue market, and we are pleased to see these developments accurately memorialized," says Paul Giobbi, President of Zumasys. "The response from our customers who have previewed The MultiValue Family Tree has been tremendous, and we hope to continue to receive input from the community to ensure this becomes a living document and remains current."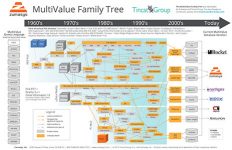 A limited number of complimentary 20" x 30" poster versions of the document are available from Zumasys and can be obtained by emailing [email protected].
The document is also available for viewing by clicking on the image.
Zumasys has acquired a series of MultiValue software technologies and platforms over the last year including AccuTerm, MultiValue Dashboard, jBASE, OpenQM (Worldwide Distribution) and recently relaunched www.PickWiki.com. Partnering on the MultiValue Family Tree poster helps us get out the message that Zumasys is active in the market and making significant investments in MultiValue.