If you've ever used AccuTerm, you've probably heard of Pete Schellenbach. Pete is our Director of Product Development and the creator of the AccuTerm product line. As one of the pioneers of terminal emulation, Pete is a thought leader in the industry and is still intimately involved in the development and evolution of AccuTerm here at Zumasys.
So, naturally, Pete is pretty pumped up about this latest release of AccuTerm. We sat down with Pete and asked him to tell us why AccuTerm 8 is such a big deal.
Tell us the backstory of AccuTerm 8. What fueled the need to build it?
People are changing the way they do business. They need flexibility in how and where they access their Multivalue applications, and AccuTerm has to evolve with the times. With AccuTerm 8, we're moving closer to a Software-as-a-Service model. The community was really anxious to see this product move forward, and this latest update should get people excited.
It had been almost a decade since we'd made any major changes to AccuTerm Desktop and Web. In addition to updating technology components to modern frameworks of these versions, we're also moving towards merging them together into one unified AccuTerm experience, which we're closer to doing with AccuTerm 8.
Tell me about AccuTerm Web. What are some of the biggest updates with AccuTerm 8?
AccuTerm Web now runs on pure HTML5 built with JavaScript and without any more plugins. So as long as you're running a modern browser, it just works—no matter what platform you're using (Windows, Mac, Linux, or mobile). The interface has been rebranded with a simpler, more monochrome look with less clutter. It's the biggest change to our interface since Windows 2003. And we have some extra goodies like color-coding and the ability to pop pictures in place.
We've also made some changes to make AccuTerm Web match the interface of the Desktop app, so the experience is much more streamlined. This enables users to perform a lot of the same functions that they would from the Desktop app from anywhere, on any device using a browser.
What's your favorite feature in AccuTerm 8?
I really like the "tear-off tabs" in the Desktop version. It's very similar to what you'd see in a web browser like Chrome. A lot of people use multiple tabs because they're connected to multiple servers or they're connected to one server doing orders on one and customers on the other, and sometimes they want to see both at the same time. With AccuTerm 8, you can open new tabs and drag, snap, and rearrange them any way you like. This is a big step forward that I think our users are really going to appreciate.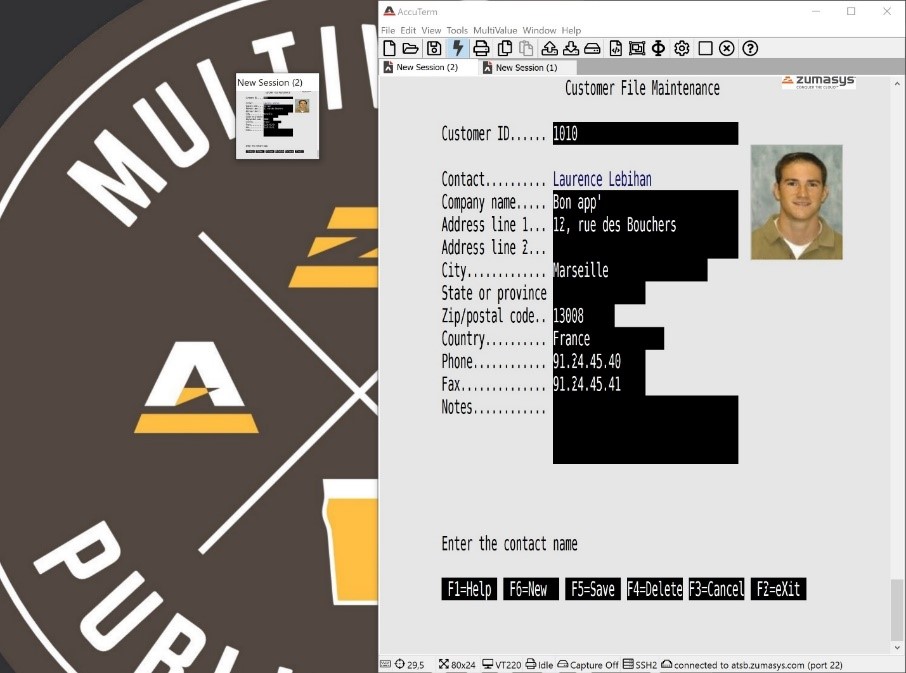 What are you most excited about for the future of AccuTerm?
I think getting the three of these products at parity so that the feature set is as close as possible on all of them is going to be the next big development. As part of that effort, we're looking into the possibility of having all three versions on the same code set and JavaScript. The nice thing about that is once it becomes JavaScript, getting assistance from other developers and getting people to contribute to different parts of the project will accelerate our development progress going forward. This will be next-year's project. Stay tuned!
What is your favorite customer story?
AccuTerm is used by a huge variety of customers in all types of businesses all over the world, from theme parks to sporting goods chains and pet supply stores. A lot of folks think that their application is actually called AccuTerm. At least once a week, we will get an email from someone asking us for printer support for their pick application. We just politely point them back to their vendor or IT department.
The most amusing email I got once from a customer saying they saw AccuTerm running in a store and somebody told them it only cost $129 bucks and they were really excited to sign up for their business. I had to explain to them that it wasn't actually full software package, just the application that allows you to access it it..
They were pretty confused. We just try to explain that we're like the wheels on the bus. We make the bus go, but you still need the engine. Share your favorite Pete Schellenbach/AccuTerm story by emailing [email protected] and follow our Facebook page to see them posted online.
Join Pete for a Special Webinar
AccuTerm 8: What's New and Tips for Deployment